As well as painting and drawing Neil also creates very
complex original prints based on cultural heritage and
visual histories, using the etching process which is a
process where by an image is drawn with a needle point
onto a pre-prepared wax ground on a copper or zinc
plate, the drawn image is then submerged in a tray of
acid and the exposed drawn lines are etched into the
plate surface, (the wax ground that is not exposed
resists the acid).
Once the bitten acid process is complete the wax
ground is cleaned off to reveal the copper or zinc plate
with the exposed bitten lines of the drawn image,-
(These have been etched into the plates surface, see
the image on the left). The plate is then inked by
scraping etching ink into the bitten lines and then
cleaned back to leave only the etched ink in the
etched lines. (See the images above)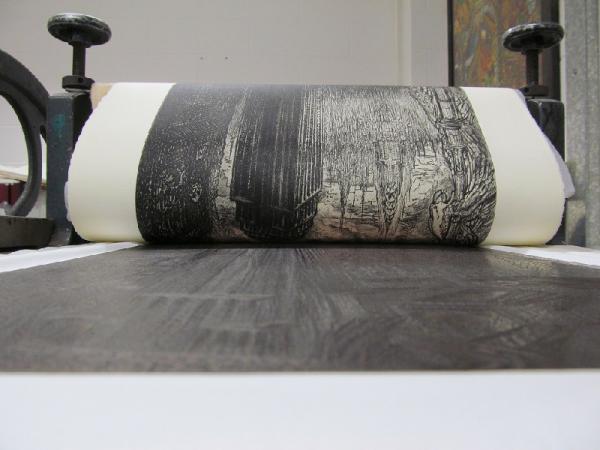 (Above) Image shows one of Neil's etchings after just been printed
from an inked plate.

(Left) Images showing part of Neil's etching process with detail showing
inked plate and printed image showing the vsarious working stages of one
of Neil's Etchings.