Online Drawing and Painting Courses with Neil Pittaway
Neil's courses offer a unique opportunity for you to experience and learn some drawing or painting skills whilst giving you some insight and background into the fascinating world of Artists and Art History. Why not have a go and explore your creative side! No previous experience needed just an enthusiasm to learn.
At a glance - Next Course dates: Starts on 11th January 2022 to 8th February 2022
(Every Tuesday for 5 weeks, 5 Week Course )

Cost of this course is £60
For more information please email njpittaway@hotmail.com
About the courses
Each session (Usually on Tuesday afternoons) will include 2 Zoom meetings, each approximately 30 minutes long. The first session at 1pm will introduce you to a particular art movement / topic and or Artist that the course is focused on at particular time. You will then be introduce to the practical activity you will be working on. The second Zoom session at 3pm will give you an opportunity to show and discuss your work and get feedback in a very friendly and supportive manner. There is also the opportunity for you to get further extra feedback by email with the option to share your ideas and work each week. All Neil's sessions include online resources, which give a step-by-step approach and learning materials you can download at anytime and If you are unable to attend any Zoom sessions then you will be sent send the resources to use at home and give you feedback on your work at either the next session or by email.
Summary
The next course dates are from: 11th January 2022 to 8th February 2022 (5 week Course)
Watercolour Painting and or Drawing
The course will be delivered online via 2 Zoom meetings, resource materials, email support
and information
How to Book
If you would like to book the next course and or would like furher information you can either email us at njpittaway@hotmail.com or to speak to us by telephoning +44 (0)7 507904846 or write to the address this address: 1 Glenfields, Netherton, Wakefield ,West Yorkshire WF4 4SH, UK.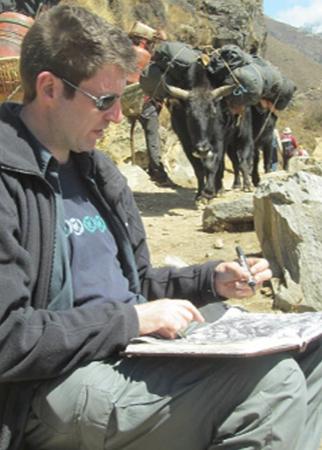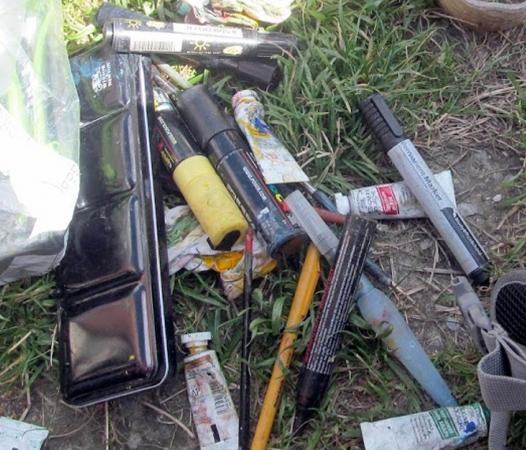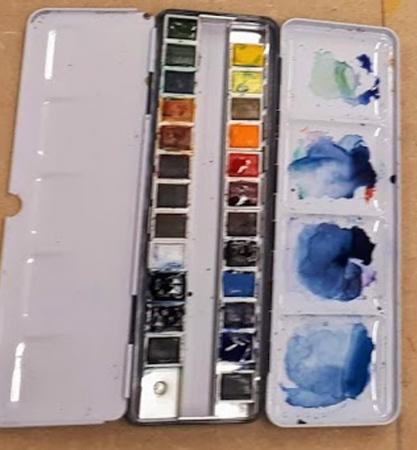 Other Courses Neil Pittaway teaches
West Yorkshire Print Workshop - Drypoint intaglio course
Neil Pittaway is scheduled to teach a Drypoint intaglio Workshops at WYPW Mirfield in West yorkshire on Saturday 10th April 2021 however due to the Covid 19 Crisis these have had to be postponed until the print workshop can re-open so no dates for this have as yet been confirmed.
Intro to: Chine Colle with Drypoint - a one day Workshop
Saturday 27th November 2021. Times: 10 – 5pm
Fully Booked!
Description
This course will be an introduction to Drypoint and Chine Collé. Over the course of the day, you will gain working knowledge of both techniques as well as some contextual knowledge of their application. You will be encouraged to use techniques learned to experiment and produce your own unique image(s).
Learn how to create an intaglio drypoint etching(s); a process where by you scratch with a needle point(s) directly into the surface of a plate(s) which is then inked and printed. This will then be combined with chine collé, (a method that allows you to 'collage' onto your printed drawing with patterns and shapes of transparent colour using layers of tissue).
Throughout the day you will be shown how to experiment, develop ideas and composition to create a range of original drypoint and chine collé prints using different qualities of line, tone and shape giving you a solid foundation from which you can take forward to extend and or explore other intaglio processes in the future. This workshop will give you the opportunity to be experimental, creative and will enable you to develop your own ideas and understanding in a friendly, safe and positive learning environment!
For more information and or to book please click on the image boxes below:
---
Other places and courses Neil currently teaches at:
For more information about wmc courses and city lit course I teach, please click on the image boxes below:
Working Mens Adult Education College - Introduction to Printmaking: For more information on this click on the WMCollege logo
and or other image below.
---
Courses starting in September 2021 in London that Neil Teaches!
---
Working Mens Adult Education College
Intrdouction to Printmaking
Course details:
You will learn about and use a wide range of printmaking processes to produce your own original prints, including mono printing, etching, lino printing, dry point, soft-ground etching aquatint, and collagraph printing. You will begin to use a range of printmaking techniques to generate immediate creative results, extend your skills and develop your own ideas. New starters are welcome at any time of year and more experienced learner can pursue their own projects.
Please note that it is the Monday Printmaking courses that Neil teaches at WMCollege
Next course start dates:

10/01/2022

Times Mondays: morning course: 10:00 - 12:45 and Mondays Afternoon Course: 13.15 - 16.00,

Next Course Dates: coming soon starting in September 2021 (Course are in 5 week block and you can enrol for more at any one time)

(Please note you can also enrol for a whole day by enroling on both the morning and afternoon courses to give yourself more time to learn and to work on and develop your printmaking skills).

Cost and duration: 5 Price: £130.00 Concessions:£65.00 Location: Kentish Town

Course Code:PRINT01AA

For more information and to enrol click on either of the images below:
For more infomration and to enrol click on the images
---
Working Mens Adult Education College
Drawing Skills and techniques
Course details:
This course will give you an opportunity to learn a range of drawing skills and techniques. If you are a complete beginner or you have done some drawing before and want to improve your skills, then this is the course for you. Sessions will include techniques in perspective, observational still life, landscape composition, portraiture and landscape, using a range of drawing materials and media. There is also an opportunity to draw in a museum setting if this is possible.
Next course start dates:

13/ 01/2022 (10 Weeks)

Times: Thursdays 2pm to 5pm

Weeks: 10 Week course Course are in 10 week blocks and you can enrol for more at any one time)

Cost and duration: 10 weeks Price: £205.00 Concessions: £102.00

Course code: DRAW06B

Camden campus WMCOLLEGE
For more infomration and to enrol click on the images
---
Working Mens Adult Education College
Watercolour Skills and techniques
Course details:
Experience and explore the many beautiful and translucent qualities of watercolour painting. Watercolour has an amazing range of qualities and has much potential to explore for the beginner, or even for the experienced artist. You will learn techniques such as: wash, layering of colour and brush handling. Using the wonderful medium of watercolour, you will learn to create still live and landscapes and develop your own work, whilst challenging your perception of what watercolour can do.
Next course start dates:

13/01/2022 (10 Weeks)

Times: Thursdays 6pm to 9pm

Weeks: 10 Week course Course are in 10 week blocks and you can enrol for more at any one time)

Cost and duration: Price: £240.00 Concessions: £120.00

Course code:

WTRCOL01B

Camden campus WMCOLLEGE
For more infomration and to enrol click on the images
---