These are challenging times
Lockdown and the current corona virus pandemic crisis as been difficult for all of us and that is why it as been important to try and keep busy
as planned exhibtions , events have either had to be adapted, rescheduled, postponed and or in some cases cancelleld. I have selected one work and
three recently completed works:
A work based on Climate change a Work in Progress
The work in progress below is a complex dip pen and ink drawing based on climate change where animals and the natural world
are being hunted to exstinction. This work draw it's inspiration from recent news and event published and televised on climate
change. View a short film of this on Neil's instagram by clicking on the image below (If you are not on instagram already you may
have to join to watch this.
The Golden Age of Silent Movies - my work 'Touching Time'
This work has been created for a special exhibtion with Leeds Fine Artists to be shown sometime this year at the Burton Stanley Audley
Gallery at Leeds University. The work is based on the Golden Age of comic silent movies of Charlie Chaplin, Buster Keaton and Harold
LIoyd, where they are represented in a time capsule room in new York City. A portrait of Buster Keaton is looking in, symbolising a
prison on the inside ad well as the outside. Other references to this suspended world in time are in the images represented on the walls
of the interior whic show other referneces to Chaplin, Keaton and LIoyd as well as new paper clip from of the 1929 financial crash which
led to the global depression. The work is a poinent reminder of how fleeting and precious time is and how the world is ever changing and
connections, meanings and the present can still have relevancy to a past world that is no more, hence the title 'Touching Time' .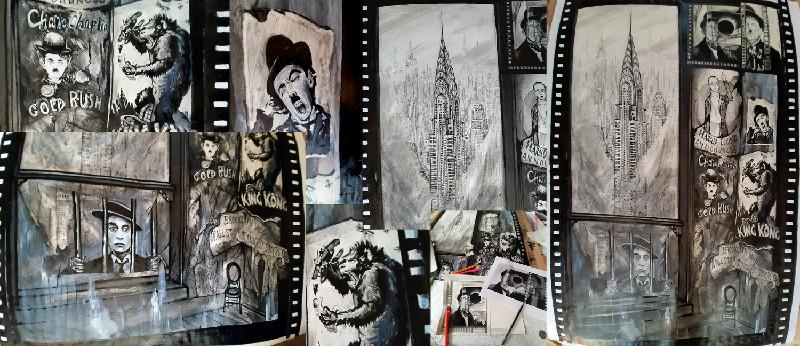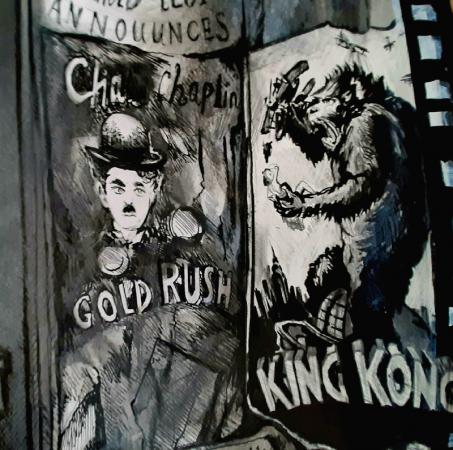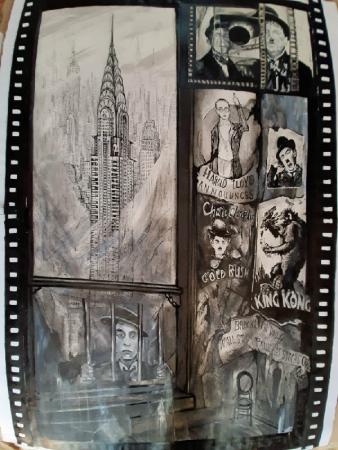 (Above) Images including details showing my work 'Touching time', Pen, ink and pencil
'Recent works' Based on two iconic London landmark's, Big Ben and Eros
These are some recent works based on famous iconic landmarks in London, The Elizabeth Tower (Best known as 'Big Ben' and Alfred Gilbert's Shaftsbury Piccadilly Circus memorial 'Eros'. The painting and draing of 'Big Ben' (Below left} are meant to represent living heritage, capturing thw majesty of this iconic landmark. These two works were created from sketches, photogrpahs and the Artists imagination, both were built up in stages and layers of paint and pen and ink on pencil. 'Eros Selfie' is a pen and ink drawing that is a play on the illusion of vanity and self image, where tourists are seen taking selfies in groupson the top open deck of a London Tour Bus amidst the shadow of Eros which bears down like a looming cupid. Behind Eros are adverts of contemporary culture, a reference to things to come, a futuristic world. Again this work was created using traditional dip pen and ink drawing skills, where the ink is built up in a construct of complex lines and forms. These works were recently exhibited with the New English Art Club at the Chris Beetles Gallery in St. James's, Mayfair in London.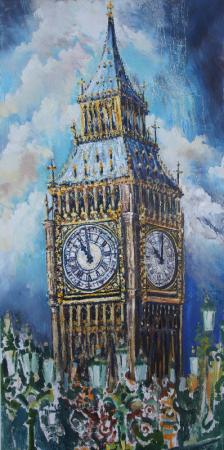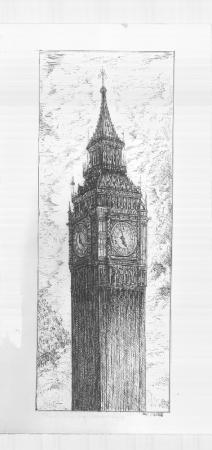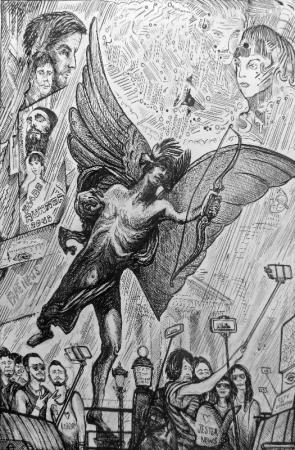 Big Ben Living Heritage Five to Five, Pen and ink Eros Selfie , pen and ink
Please keep re-visiting this page for more news on what Neil is working on.
All images - ©Neil John Pittaway