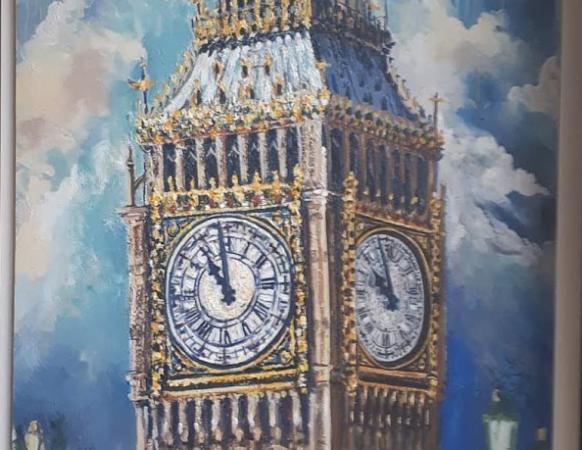 BLOG
Spring 2022
New sketches and paintings will be posted from Neil's recent trip Painting and Walking the Amalfi Coast in Italy
Merry Christmas 2021!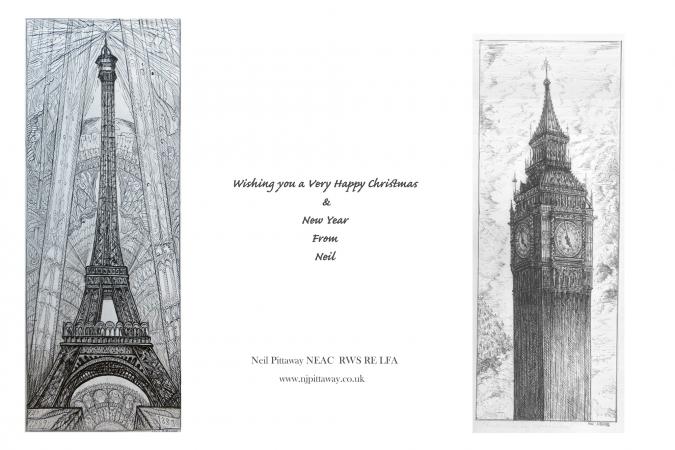 In Focus - In Remberance of War and Conflict November 2021
Below I have selected some of my paintings that I have created previusly based on War and conflict with a particular focus on the First Worl War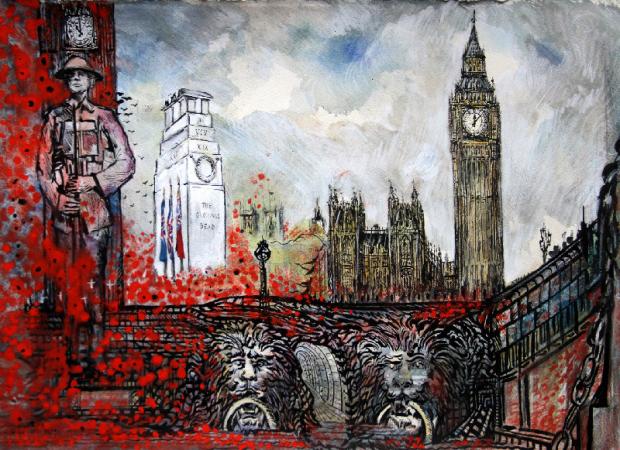 From Flanders Fields Poppies blow Pen, ink, watercolour and pigment
This painting is all about remberance with the London Cenotaph, scattered poppies, the passing hours of big ben and a solitory soldier
representing the unknown soldier.
This painting was part created on the spot (drawing the view of the houses of parliament from the garden banks of St. Thomas's
hospital, London). The rest of the picture is drawn from imagination built up in pen ink and watercolour. The artist used raw pigment with
the watercolour for hte popies to give it an even greater richness and effect.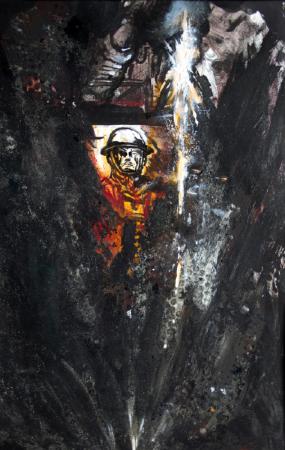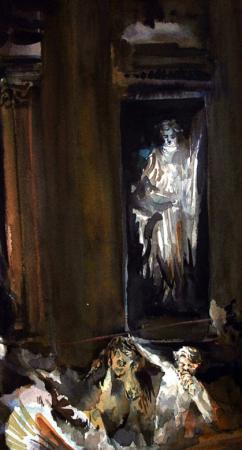 Some Corner of a Foreign Field, Mixed media on paper Guardian Angel, Watercolour
Neil's painting (above ) is based in one part on one of the sculptured soldiers on the Royal Artillery Monument, Hyde Park corner in London
by the Sculptor Charles Sargent Jagger and other part based on the poem below by Rupert Brookse (1887-1915)
The Soldier by Rupert Brooke 1887-1915



If I should die, think only this of me:
   That there's some corner of a foreign field
That is for ever England.  There shall be
   In that rich earth a richer dust concealed;
A dust whom England bore, shaped, made aware,
   Gave, once, her flowers to love, her ways to roam,
A body of England's, breathing English air,
   Washed by the rivers, blest by suns of home.

And think, this heart, all evil shed away,
   A pulse in the eternal mind, no less
     Gives somewhere back the thoughts by England given;
Her sights and sounds; dreams happy as her day;
   And laughter, learnt of friends; and gentleness,
     In hearts at peace, under an English heaven.
Some Corner of a Foreign Field - The artist drew this directly from the Artillary War Memorial, Hyde Park Corner, London and then obliterated most
of the image using paint and ink to create the effect of darkness of war, a shell case exploding. All that is left is a solitary soldier abandoned in
a foreign land, a corner of a foreign field.
Whose Absent? Watercolour with Pen and Ink
This is one of the artist's First World War pictures and is about First World War propoganda, scarifice and loss. It questions the futility of war, the
dangers of Nationalism, its influence on humanity, how the many were led and misled into fighting for a cause.
The artist has played on the themes of propoganda and Nationalism, using famous images from the Kitchener poster and other propaganda images; the
composition becomes a mechanised world of war and death.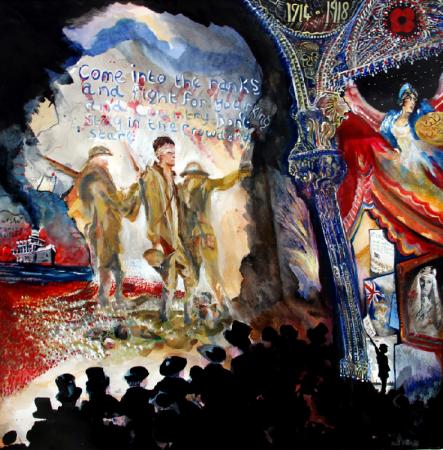 Dulce Et Decorum Est Watercolour with body colour
This painting depicts the tradgedy and horror of the First World War. Set in a music hall theatre where the
audience of young men is treated to a show of what their future holds and the fate that inevitably awaits them on
the battle field. They stare directly at the American Artist John Singer Sargent's painting of 'gassed', wounded and dead
soldiers on the Western Fornt. This scene merges into fields of poppies and represent the blood and sacrifice of the
many, silent dead.
The title of the work is taken from Wilfred Owens First World War Poem 'Dulce Et Decorum Est'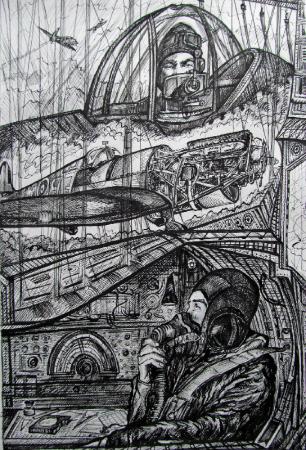 Battle of Britain, pen and ink
These works are also aout loss, sacrifice and rememberance.
---
Another Annual NEAC Exhibition finishes
(Looking forward to the next one in 2022)
Published Summer 2021
Another New English Arts Club Annual Exhibtion as just ended but you can still view the art works
online including my 4 works by clicking on the image below.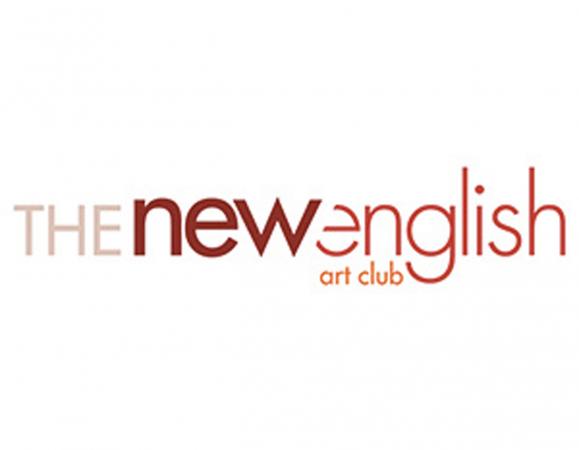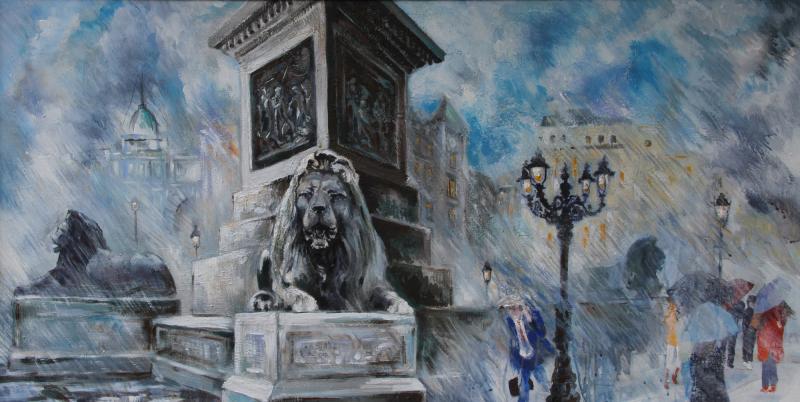 To still view the NEAC Annual Exhibition 2021 online click on either of the above images
---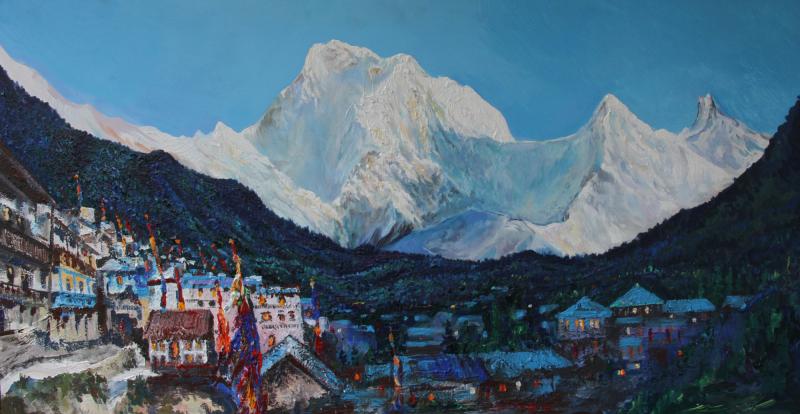 Re-opening again My New work in 3 Exhibitions in London and Leeds
Published Summer 2021
The slow reopening of Exhibtions sees me once again exhibiting some new works in three exhibtions. I have three paintings and one drawing in our Annual New English Art Club Exhibition which is currently on at the Mall Galleries, The Mall, London W1. The subject of these works are mountain himalayn scenes and includes a detail drawing based on the Art and architecture of Vienna. I have a further four works a mixture of drawing, paintings and original prints on exhibtion in our bankside Galleries Annual Summer Exhibition. The third exhibtion entitled 'Look Again' is on in Leeds at the Stanley and Audrey Burton Gallery, part of Leeds University.
For more information including how to visit these three exhibtions, please visit the exhibtions page on this website.
---
These are challenging times Published Spring 2021
Lockdown and the current corona virus pandemic crisis as been difficult for all of us and that is why it as been important to try and keep busy
as planned exhibtions , events have either had to be adapted, rescheduled, postponed and or in some cases cancelleld. I have selected one work and
three recently completed works:
A work based on Climate change a Work in Progress
The work in progress below is a complex dip pen and ink drawing based on climate change where animals and the natural world
are being hunted to exstinction. This work draw it's inspiration from recent news and event published and televised on climate
change. View a short film of this on Neil's instagram by clicking on the image below (If you are not on instagram already you may
have to join to watch this.
The Golden Age of Silent Movies - my work 'Touching Time'
This work has been created for a special exhibtion with Leeds Fine Artists to be shown sometime this year at the Burton Stanley Audley
Gallery at Leeds University. The work is based on the Golden Age of comic silent movies of Charlie Chaplin, Buster Keaton and Harold
LIoyd, where they are represented in a time capsule room in new York City. A portrait of Buster Keaton is looking in, symbolising a
prison on the inside ad well as the outside. Other references to this suspended world in time are in the images represented on the walls
of the interior whic show other referneces to Chaplin, Keaton and LIoyd as well as new paper clip from of the 1929 financial crash which
led to the global depression. The work is a poinent reminder of how fleeting and precious time is and how the world is ever changing and
connections, meanings and the present can still have relevancy to a past world that is no more, hence the title 'Touching Time' .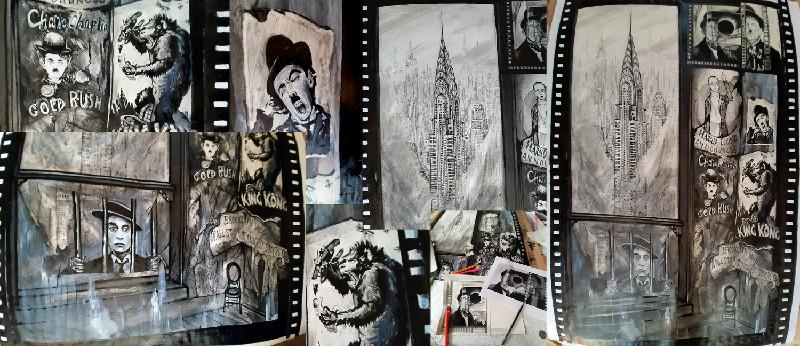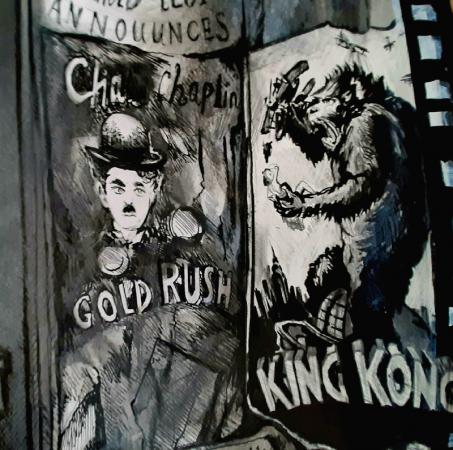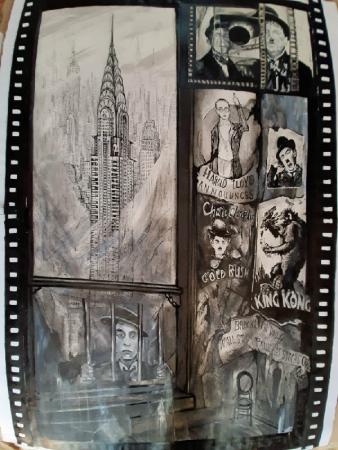 (Above) Images including details showing my work 'Touching time', Pen, ink and pencil
---
'Recent works' Based on two iconic London landmark's, Big Ben and Eros
Published Autumn / Winter 2020
These are some recent works based on famous iconic landmarks in London, The Elizabeth Tower (Best known as 'Big Ben' and Alfred Gilbert's Shaftsbury Piccadilly Circus memorial 'Eros'. The painting and draing of 'Big Ben' (Below left} are meant to represent living heritage, capturing thw majesty of this iconic landmark. These two works were created from sketches, photogrpahs and the Artists imagination, both were built up in stages and layers of paint and pen and ink on pencil. 'Eros Selfie' is a pen and ink drawing that is a play on the illusion of vanity and self image, where tourists are seen taking selfies in groupson the top open deck of a London Tour Bus amidst the shadow of Eros which bears down like a looming cupid. Behind Eros are adverts of contemporary culture, a reference to things to come, a futuristic world. Again this work was created using traditional dip pen and ink drawing skills, where the ink is built up in a construct of complex lines and forms. These works were recently exhibited with the New English Art Club at the Chris Beetles Gallery in St. James's, Mayfair in London.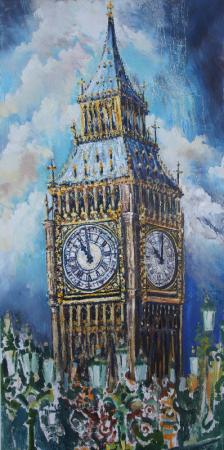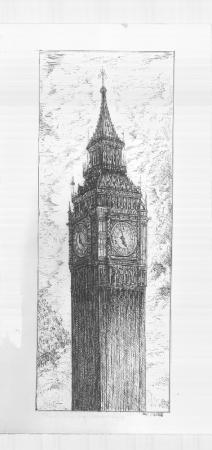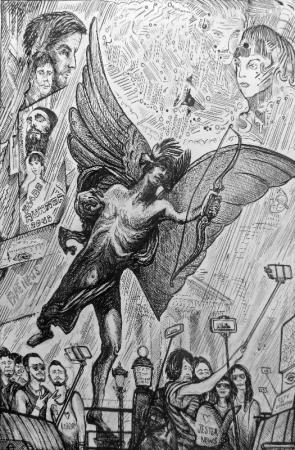 Big Ben Living Heritage Five to Five, Pen and ink Eros Selfie , pen and ink
Please keep re-visiting this page for more news on what Neil is working on.
All images - ©Neil John Pittaway